-A
+A
Volunteer Engagement as a Form of Transformational Leadership

It's with great excitement that I join the team at e-Volunteerism in the role of Editor, Training Designs. A long-time reader and past contributor, I know firsthand the caliber of excellence set by the team and expected by readers.
I think training is an underexplored aspect of the role of a leader of volunteers. My goals as editor of this section are to build on the amazing work already done; to listen to you, the readers, on what topics and resources will help you be effective and have the most impact in your work; and, finally, to continue pushing our understanding and mastery of training.
Transformational Leadership
This Training Designs builds on Erin Barnhart's article in the last issue ("Advocating for Volunteers by Educating Staff") that made the case for advocating for volunteers and ourselves as leaders of volunteers by educating our paid staff colleagues. Barnhart asserts that educating staff is a critical step in building understanding with peers and changing organizational culture to a more inclusive one for volunteers. I would add that a core step in making training successful, no matter the topic, is to frame it and use language in a way that the audience understands, is open to, and wants to learn more about. Using the language and theory of leadership makes sense because of its popularity, proven results and learnability. Within the subject of leadership, a number of theories exist, includingtransformational leadership, which is characterized by a leader's ability to "bring about significant change in followers and the organization" (Daft, 2005). 
I propose that volunteer engagement is a form of transformational leadership. Leaders of volunteer engagement are transformational when they focus on what people can add to organizations as volunteers and when they work at a level that affects significant change in the people they lead and the organization as a whole (Daft, 2005).
In contrast, the work of leaders of volunteers is too often framed through the lens of management and administration rather than leadership. Yet it is the leadership aspects within the work of leaders of volunteers that most truly define its unique value and core competencies.
Transformational leadership is characterized by four key components, summarized by Ronald E. Riggio in a 2009 presentation (slides and transcript available online) as:
 Idealized Influence: The leader serves as an ideal role model for followers; the leader "walks the talk," and is admired for this.
 Inspirational Motivation: Transformational leaders have the ability to inspire and motivate followers through meaning and challenge.
 Intellectual Stimulation: The leader challenges followers to be innovative and creative by questioning assumptions, reframing problems, and devising new solutions.
Individualized Consideration: Transformational leaders pay special attention to followers' needs and concerns. Personal attention through mentoring and coaching also brings out best efforts.
Riggio provides this graphic of these four "I"s: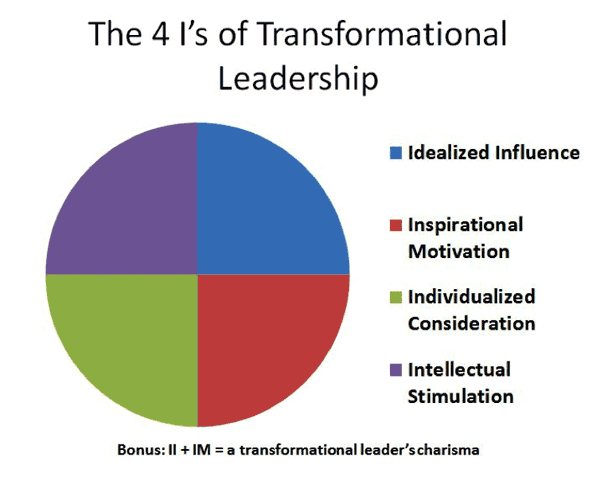 Take the quiz, "Are You a Transformational Leader?" (Riggio, 2009), to find out where your strengths lie as a transformational leader.
Focus on Three Things
How can you increase your transformational leadership skills and deliver training to your peers to help them understand the potential impact of transformational volunteer engagement? When acting in a transformational capacity, leaders of volunteers focus on three things: people, change, and results.
People
While management and administration are about transactional processes and inanimate things, leaders of volunteers are transformational by building relationships with people to make incredible things happen. A focus on each person's strengths demonstrates deep concern and respect and allows leaders of volunteers to creatively identify new ways to involve people in achieving the mission of the organization. Being able to act without the constraints of things like salaries, leaders of volunteers have an exponential opportunity to bring talent into the organization in high-impact contributions.
Transformational leaders use the more individually-based sources of power like influence and motivation to get results instead of the standard transactional rewards (Raza, 2011). Studies on use of power show that commitment and results increase in response to this style, versus the more traditional carrot and stick style (Johnson, 2011, p.8). When done well, standard tools of the trade like position descriptions, orientations and ongoing communication allow leaders of volunteers to reinforce volunteer-organization connection and helps provide 'line of sight' where an individual sees how their work contributes to the broader whole. Additionally, a mindset and philosophy of finding the 'right fit' between an individual and organization and involving them in the co-creation of their involvement, then setting them up for ongoing success through stewardship and consideration of their volunteer career, allows people to continue growing and developing.
Change
Transformation speaks not to incremental changes, but significant ones. It is the new, not the tweaked or enhanced. It's less a matter of doing things differently than of being different. With a focus on people, transformational leaders of volunteers understand that change is personal and therefore frame their vision based on higher-level motivations that rally people. This "moves people beyond self-interests and allows them to focus on the good of the group or society" (Raza, 2011). They involve others in achieving this new reality by making them see its personal meaning and how each person's talents can bring about the visionary change.
Change is the focal point of all leader-follower relationships, as it is change that brings leaders and followers together to make happen. Being forward-thinking as a leader is important not only for its own sake, but also in relation to the other two key focus areas of people and results. Consider the more than two decades of leadership research by Kouzes and Posner (The Leadership Challenge, 1987), which have shown only four characteristics that followers around the world, across time and space, have indicated consistently are the most important things to them about the people they follow. What's important here is the choice; these are the characteristics of leaders who people choose to follow, not those we have to because of position.
Notice that being forward-looking ranks second amongst these most core and consistent leader characteristics. Given today's increased rate of change, an ability to be forward-looking and not only to navigate but lead change remains at the forefront of key leadership qualities.
Results
Despite what some may see as softness for having a focus on people, transformational leaders of volunteers understand that results happen by and through people. This means looking not only at the results of the change being sought, but also considering the personal results on those involved and impacted by the change. In transformational leadership, results are never simplistic or separated from the people involved.
Delegation is a core activity of transformational leaders because of its impact on results. Through effective delegation, transformational leaders demonstrate personal attention and intellectual stimulation by challenging followers to grow and hone their skills. Delegation has the added benefit of providing an opportunity for healthy ownership by followers over work, thereby strengthening their commitment to the organization and mission. Leaders of volunteers can and should be role modeling delegation and sharing impactful stories of how involving others allows you to expand the results of actions.
Transformational leaders have been shown to have more satisfied followers, lead more effective work groups, and have less stress and burnout of followers (Riggio, 2009) and on the financial performance of organizations (Raza, 2011). Most leaders of volunteers track a number of metrics and complete surveys of both volunteers and staff to demonstrate the results of embracing transformational leadership traits. Such findings can be shared with paid staff colleagues, senior managers, and the board of directors which can have a significant impact on how the work of the leader of volunteers is understood and valued.
Summary
Consider the simple logic behind the flow of these three areas of focus in transformational leadership: The energy and talent of people lead to large-scale transformational change, which in turn further motivates people towards results – results achieved beyond expectations due to committed people working in sync together towards an inspiring change, empowered by leaders who care about them and are equally invested in results and people.
When leaders of volunteers are at their best, they are transformational. They are leaders who care about volunteers, peers, and the mission of the organization, so they facilitate the co-creation of ways volunteers can apply their skills towards impactful change that leads to results. They model the behaviours of exceptional transformational leaders with their own volunteer partners and contribute to an environment that continually empowers everyone to do better, to innovate and to deliver exceptional results.
Transformational leadership is a natural fit for leaders of volunteers because it is "based on the personal values, belief, and qualities of the leader rather than on an exchange process" (Daft, 2005, p.154). Due to the often perceived limited resources and power allocated to leaders of volunteers, it is encouraging to know that all it takes to be transformational is you, your attitude, and behaviours. Leaders of volunteers must believe in their own power as transformational leaders first. Then, using tools like those presented here, you can educate those around you, too. 
_________________________________________
References
Daft, Richard L (2005). The Leadership Experience, Third Edition. Thompson South-Western
Johnson, Craig E. (2011). Meeting the Ethical Challenges of Leadership, Fourth Edition. SAGE Publications.
Kouzes, James M. and Barry B. Posner (2008). The Leadership Challenge, Fourth Edition. Jossey-Bass.
Raza, Tahreem(2011). "Exploring Transformational and Transactional Leadership Styles."  http://irc.queensu.ca/articles/exploring-transformational-and-transactional-leadership-styles
Riggio, Ron (2009). "Transformational Leadership." http://www.slideshare.net/wrightleadership/transformational-leadership-2624009
Additional Resources