-A
+A
The Evolution of International Volunteer Managers Day
From Small Beginnings
Like most things that grow and evolve into something strong and meaningful, International Volunteer Managers Day (IVMDay) started life as a small idea from a group of people who identified a need and were willing to act upon it. The 'lunatic fringe,' as Susan Ellis might describe them.
IVMDay emerged from a conversation in the late 90s, when Nan Hawthorne, an American volunteer management leader in Seattle, saw a need to try and create better ongoing dialogue for volunteer management professionals in-between the annual national Association for Volunteer Administration (AVA) conferences in the United States. She created an online discussion forum on Yahoo, originally to meet this need in the northwest region. But through enquiries from further afield, this online community quickly grew to be the national online group called CyberVPM.
CyberVPM grew rapidly, and a frequent discussion topic was the low visibility of the person who managed volunteer involvement. Organisations gave recognition to volunteers, but not necessarily to those who facilitated and supported them. In those online exchanges, Hawthorne wondered if there was a better way to more broadly recognize the work of volunteer management professionals. The idea of putting aside a day specifically to celebrate volunteer managers was born.
In late 1998, Hawthorne contacted key volunteerism leaders across the U.S. to discuss this idea and think through the logistics of how to achieve this idea. Members of this early 'think tank' were Susan Ellis, Steve McCurley, Marlene Wilson, Nancy McDuff, and Sue Vineyard. Their initial reaction was lukewarm, as it seemed an uphill battle to create a national commemorative event somewhat out of the blue. On the other hand, Hawthorne was prepared to do much of the legwork and it was certainly an idea worth trialing.
So the wheels were set in motion to celebrate what was first called 'International Volunteer Manager Appreciation Day' (IVMAD) on 5 December 1999. December 5th was already established through the United Nations as 'International Volunteer Day', and the original planning team felt some leverage could be gained by using that day to also highlight the important role that volunteer management plays in creating strong volunteering outcomes.
Hawthorne pulled together a committee to help promote the day. One of the people she enlisted was Steven Nil, the CEO of Charity Channel, which was at that time publishing the electronic newsletter, Volunteer Management Review. Nil immediately offered Charity Channel as host to a Web presence for this newly formed day of celebration, in order to allow the field to learn more about IVMAD.
On December 5, 1999, International Volunteer Manager Appreciation Day was celebrated for the first time.

Limping Along
It's fair and honest to say that for the first four or five years, IVMAD struggled to gain any real momentum.
Granted, there would generally be a flurry of messages on CyberVPM in the month leading up to December 5th, to encourage volunteer managers to 'celebrate' their achievements. But other than information being available on its Web site, IVMAD was generally forgotten about for the next eleven months.
Why? The situation was partially due to the part-time nature of the committee overseeing the day, and partially due to the fact that Hawthorne began pursuing other professional avenues. Another significant difficulty in those early years was that IVMAD was too easily 'lost' within the much bigger celebration of International Volunteer Day, and continued to share its December 5th date.
But the most compelling reason that helps explain IVMAD's lackluster beginnings, if we are to be completely honest, was that the 'international' element in the title of the day really didn't carry much currency beyond U.S. borders. At the time, the entire committee overseeing IVMAD was made up of Americans. And other than the odd cross-posting about the day on Australian (OzVPM) and English (UMVPM's) list servs, the day did not appear to have any real global focus or relevance.
Some Significant Changes
To her full credit, Hawthorne recognized some of these issues and, in 2005, I was the first non-American invited to join the international committee overseeing the day. As the Founder and Director of OzVPM, I already had a well-established network of volunteer management professionals and contacts throughout Australia, New Zealand, and also in the UK and Asia. I, too, was a guest writer for Charity Channel at the time, and so Steve Nil put my name forward as the committee wondered who might be a good international candidate. I was happy to accept the invitation and, with some renewed energy, we started to make some significant changes to breathe some life back into the day and to make it more relevant across the globe.
The first of these changes was to try and respond directly to criticisms that were being leveled against IVMAD. Most significantly, volunteerism leaders complained that they didn't want to be 'appreciated'! Comments being posted online and to the committee directly highlighted that many volunteer managers felt that the word 'appreciation' in the IVMAD title framed it as simply a chance to pat themselves on the back. As a result, many felt it was all just a little condescending.
So in 2006, the IVMAD committee made two instrumental decisions to respond to the field's concerns:
First, we changed the name of IVMAD by dropping the word 'appreciation' from the title and changing "Manager" to the plural "Managers." Ever since, the day has been known simply as International Volunteer Managers Day (IVMDay), a move that went some way towards changing perceptions about what we were trying to achieve.
Second, we moved IVMDay from the December 5th date it shared with International Volunteer Day to a stand-alone date of its own: November 1st. We hoped that letting IVMDay become independent would allow it to gain its own momentum.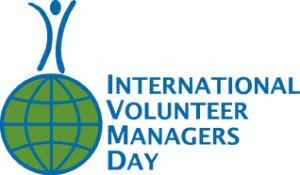 In conjunction with the names and date changes in 2006, we also developed a corporate logo. We approached U.S.-based graphic artist Christina Balas, and she volunteered her time to complete the design work. She also allowed the design to be used in an unlimited fashion to help promote IVMDay internationally.
In addition to pushing for the day to develop an identity of its own, we were also keen to demonstrate that IVMDay was truly an 'international' celebration. One of the ways we quickly did this was to increase the number of committee members on board from other countries, and new members were eventually added from the UK and also New Zealand. The IVMDay logo was also translated into multiple languages and available on the Web site, so that it could be used to promote IVMDay in those parts of the world where English was not the primary language.
IVMDay Philosophy
At this time, we also developed an important philosophy about the way that IVMDay should be supported and operated. We made the decision that the IVMDay International Committee should not to be some sort of overarching and dictating 'overlord' that controlled everything about the day and had complete 'ownership' of it. Rather, we agreed that IVMDay should grow and evolve so that those who celebrated it felt they had a good level of ownership over it, too.
To make this happen, we decided that the best thing we could do as a committee was give the day some direction each year, but then leave the sector to talk about it and promote it. Specifically, we decided we could best support IVMDay by doing these things:
Develop an annual theme.
Work with key sector supporters to develop tools to promote IVMDay each year, by way of posters, memes, and other forms of social media.
Maintain the IVMDay Web site and slowly build up resources that could be shared by those celebrating IVMDay around the world. This included articles and blog posts that have been published throughout the journey.
Drive messages about IVMDay through the development and maintenance of social media pages.
Maintain a database of members and supporters, to ensure that messages are given to those most able to disseminate information about the day.
To this day, the international committee that oversees and supports the IVMDay operation remains small, made up of Rob Jackson (UK), Sarah Thoma (USA), Heidi Quinn (NZ), and myself.
In 2005, Nan Hawthorne announced her intended retirement from the IVMDay International Committee to concentrate more on her passion for writing science fiction. With not too much persuasion, I was voted in to take on the role of Chairperson for the IVMDay International Committee from 2006, when Hawthorne retired altogether.
International Supporters Group
As a key strategy in this drive to make the ongoing development of IVMDay as 'organic' as possible, the concept of creating an 'International Supporters Group' (ISG) was floated in late 2006. The idea was simple. We wanted key groups who had a vested interest in volunteer management to put their hands up and lead by example, demonstrating to their own members and supporters that they supported the concept of IVMDay and the important work of volunteer managers.
We developed a Memorandum of Understanding (MOU) and then invited key agencies to participate. If they agreed, we asked that these agencies do only two things: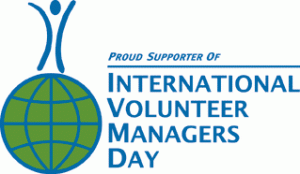 Actively promote IVMDay to their own membership and consider ways that they could help celebrate the day within their own jurisdiction.
Display a specially designed ISG supporter version of the IVMDay logo on their Web site and in their newsletters.
In return, we began to list ISG members, their logos, and a brief description about their work on the IVMDay Web site.
This proved effective very quickly. Before long, we had organizations supporting IVMDay from right around the world; at last count, the IVMDay International Supporters Group now boasts some 99 members from 19 different countries. They include: key volunteer management Web sites such as Energize, Inc. and Charity Channel; volunteer advocacy groups such as IAVE; volunteer centers such as Volunteering New Zealand, Points of Light Network, and Volunteer Canada; and, of course, volunteer management professional associations such as AL!VE, AAMoV, AVM, and CAVR.
During 2007, the concept of ISG membership was also extended to any individuals who wanted to add their support to the day by way of an 'affiliate' membership category.
It was also around this time that a key, overarching slogan or catch phrase was developed for IVMDay, one that we felt encapsulated what the day should be all about: "Celebration through Education."
Using the 'excuse' that IVMDay provided, we really hoped that volunteer managers would educate others about the important work that they do and continue to celebrate how having volunteer management professionals in place makes for better volunteering outcomes.
Further Change
While the move to a November date was popular, it also proved difficult for many volunteer managers in Europe because it clashed with Guy Fawkes Day, which is also celebrated on November 1st. So in 2008, a decision was made to move IVMDay one final time – to its now current and permanent date of November 5th. The new date was chosen due to its synergy with International Volunteers Day just one month later, and has proven to be a popular choice.
Another key contributor also came on board in 2008, the Canadian company known as Better Impact. Better Impact offered to provide the IVMDay movement with a free database system to help coordinate the ISG and to disseminate information to volunteer managers who wanted to be kept up to date with IVMDay developments around the world.
It was also around this time that we developed an IVMDay presence on Facebook and Twitter. This helped the committee use social media in new ways to spread the word about the annual celebration.
As this focus on social media grew, so too did a partnership develop with Volunteering Queensland in Australia. They have been instrumental in assisting us with YouTube clips and other social media resources. Here is a YouTube listing of past IVMDay clips from many different sources. Volunteering New Zealand have also created some terrific resources in recent years to help celebrate IVMDay, while groups in Germany, Korea, and Sweden have been instrumental in translating resources to be more applicable in their own regions.
All of these strategies have been effective in achieving considerable growth over recent years.
In 2011, as a part of a major restructuring of their Web site, Steve Nil and Charity Channel advised that they were no longer able to host the IVMDay Web site. We decided that it would be easier to build a whole new site on a platform that would make the IVMDay site easier to update. The new Web site was launched later in 2011, and is now funded by several members of the IVMDay Committee as a part of their contribution to supporting the day.
Significant Achievements
As already mentioned, the goal of the IVMDay International Committee is to use November 5th as an opportunity for members to educate others about the important work that volunteer managers undertake and the difference that work makes.
As a committee, we are most excited when we hear that groups have used the day to lobby the CEOs and line managers of the volunteer managers who are their members. There have been many stories about individuals who have been able to secure pay rises and reclassifications as a result of some initial discussions that took part on November 5th.
For many other groups, November 5th has simply become a milestone date on which conferences, annual meetings, and workshops are scheduled.  For instance, the Korean Association of Volunteer Administrators will usually host an education session followed by a joint lunch. The same is true in Wellington, New Zealand, where large corporate sponsors make available space and some funding for volunteer managers to gather together and celebrate.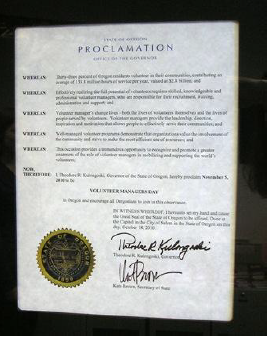 Other groups have developed awards to coincide with IVMDay to recognize excellence in volunteer management practice. This is indeed the case in Australia and New Zealand, where AAMoV (the Australasian Association for Managers of Volunteers) hosts an annual 'Volunteer Manager Award of Excellence' that is announced on IVMDay each year.
Many other groups quite simply get together for lunch or a few drinks, meeting and comparing notes with their peers.
Probably the single largest 'formal' acknowledgement came in the U.S. in 2010, when Oregon Governor Theodore Kulongoski signed a formal declaration proclaiming November 5th as Volunteer Managers Day throughout the state.
What Does the Future Hold?
The goal the IVMDay International Committee has set for the future of IVMDay is simply to allow this day of celebration to continue to gain momentum as it grows organically year after year. The ongoing development of social media tools is high on our agenda, and we certainly feel that the continued growth of the International Supporters Group is a critical pathway for the day's future development.
In the longer term, we hope that volunteer management professional associations world-wide may one day find a way to better collaborate with one another, and eventually develop a global forum for this to occur. Should this ever happen, we recognize that this would be an ideal place for IVMDay to eventually sit and be developed further. But in the meantime, the small, dedicated group of volunteers driving the November 5th celebration will continue to faithfully venture on!