-A
+A
Who Needs Balance? How the Work-Life Balance of Volunteers Impacts Them and Your Organisation

Introduction
The expression "work-life balance" was first used in the UK in the late 1970s to help explain the unhealthy life choices that many people were making. According to one definition, people "were choosing to neglect other important areas of their lives such as family, friends, and hobbies in favour of work-related chores and goals."1 In the 30 years since there has been research and discussion around the topic of work-life balance, taking on increased importance as the pace of life in developed countries becomes faster and faster.
As a volunteer manager, have you ever explored how volunteering fits into the balance of the lives of your team?  Many people talk about their lives as a 'juggling act,' in which they feel pulled in many directions by the demands of paid work, family care, community involvement, physical fitness and emotional health. Whether volunteers or employees, not all people have appropriate balance or clearly established boundaries in their lives. This Training Design is an opportunity to explore how the work-life balance of volunteers impacts on your organisation.
Overview
The impact of the life balance of individual volunteers can take various forms. Volunteer managers will at times comment on the volunteer who has developed inappropriate ownership of part or all of a program (creating a fiefdom or silo), or the volunteer who is not deemed to be reliable. There can also be a number of 'snow geese' or 'grey nomads' – those volunteers who disappear for months at a time when the weather changes or they leave to go exploring and attend festivals in their retirement years. Add to that mix the short-term volunteer who may be a corporate employee or there to gain experience along the pathway to paid employment. In addition there is the volunteer who likes constant change; once he or she has achieved desired outcomes in volunteering with you, the volunteer leaves to seek new experiences.
As a volunteer manager it is very useful to know exactly how volunteering fits into the life of your individual team members – how they prioritise volunteering and just how vital it is in their lives. The training outlined in this Training Design is an opportunity to explore this issue in detail.  It is a useful tool for you to obtain more 'empirical data' on your team. The balance ratio for a volunteer may be very different to that of the balance ratio of a paid worker. For example, many paid workers want to reduce the hours they spend at the workplace while some volunteers may be looking to 'fill a void' by volunteering as many hours as they can. Each personal agenda is going to impact how the organisation is managed and the services it is able to deliver.
The exercises in this Training Design can also enable some long-term planning, specifically succession planning. It is important for everyone within an organisation to recognise that they are not going to be there forever. It is vital to have processes in place to ensure a smooth transition when one person leaves and another person takes over the role, regardless of whether such transitions occur often or after volunteers have been involved with the organisation for decades.
A starting point will be getting all the workshop participants to identify the many demands they have on their time. There are some people who have never contemplated the complex mix of activities they juggle on a week-by-week basis. If they have not clearly identified all their responsibilities, how are you, as a manager, going to work around these obligations and responsibilities? The additional information can assist you in designing better rosters and allocating volunteer tasks to the right people. Hopefully, this opportunity to reflect will also enable volunteers to acknowledge, even if only to themselves, how their actions impact the rest of the team.
Audience
An appropriate audience for this training includes a group of volunteers who work together in teams within an organisation, or a group of volunteers who depend on each other to get their contribution to the mission accomplished.
This could be a useful facilitation/discussion for a group of volunteers to have annually. It will provide an open forum that enables the consideration of issues such as retirement, resistance to change and the involvement of new volunteers.  
Learning Objectives
At the end of this workshop, participants will be able to:
Identify all the factors that impact on their life balance.
Acknowledge that a life out of balance can have a negative impact on the volunteer program and the clients.
Recognise the issues within volunteer management that directly impact on volunteers.
Develop a plan to improve and/or modify the volunteer program to permit greater balance.
List some things they need to change in their lives to ensure greater balance.
Time Needed
Volunteers can be invited to attend a half or full day session to work through the following activities. The more time, the fuller the discussion after each activity, which is why there are no suggested minutes to spend on the different exercises below.
Activity #1: Juggling the Responsibilities of Life
Introduce the topic to the group as you distribute the handout (pictured below and provided as a PDF:  We all have many activities and responsibilities in our lives. What are all the components that need 'balancing' in your life? What percentage of your life are you spending undertaking volunteer activities? In the overlapping circles on the handout, list all your activities. Add more circles if necessary!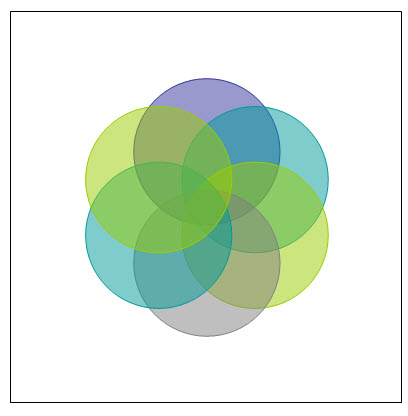 The participants will probably identify activities from the list below – and add some additional ones:
Family
Friends
Spiritual Beliefs
Work
Volunteering
Pets
Exercise
Hobbies
Shopping
Paying bills
Gardening
Housework
Vacations


List these on a whiteboard or newsprint and discuss the time needed for all of these tasks of everyday life. 
To determine the main priorities of the individual team members, ask each person to determine exactly what percentage of her or his time is spent volunteering.  Individuals do not need to reveal their answers to the full group; their responses simply give them context for the later exercises. It will be important to discuss that each person has a different mix of responsibilities and that no two people will bring the same amount of "time available" to their volunteer roles.
Ask each person to determine how significant their volunteer commitment is in their lives and to list the personal benefits of their involvement.
The list of benefits to the individual from volunteering could include:
Greater community involvement
Opportunity to give back
Social interaction
Skills development or enhancement
A positive use of leisure time
Increased self confidence
Activity #2:  The Impact of Being Out of Balance
The list developed in the previous exercise has established what each person is attempting to juggle in his or her life. Now, ask the group to: List all the characteristics/attitudes/emotions you can think of that will impact on a volunteer who has a life out of balance.
The participants may identify such out-of-balance characteristics as:
Decreased energy
Frustration
Getting overly involved
Negative attitudes
Unmotivated
Burnout
Alienation from friends
Less flexibility
Getting sick more often
Increased stress levels
Poor lifestyle habits
Loss of perspective


Briefly discuss how these factors might impact on the individual and those close to him or her.
What are potential problems that can surface for the volunteer, paid staff, clients and other volunteers when their lives are out of balance?
Activity #3:  Volunteer Management Issues
You've identified the benefits of time spent volunteering and the consequences of work-life imbalance. Now, what are the key issues that need to be considered in the management of a volunteer program to ensure that a balance between the organisation's needs and the needs of each volunteer is found? How, as a group, do we deal with the implications of what we shared and how it impacts on our organisation? 
You may use this facilitated discussion to raise these points:
Change is positive and necessary for any progressive program.
Are there strategies to ensure volunteers do not claim ownership of a particular role within the organisation? 
Why would you encourage your friends to consider volunteering with our organisation as opposed to another volunteer involving organisation?
How can we support one another as fellow team members, to ensure a good life balance?
Strategies to actively involve short-term and episodic volunteers:

How can they be effectively included in the team?
What roles best suit this group?

Involving highly skilled volunteers

Who will take on a mentoring/induction role?
Are there roles available that don't need expensive and detailed screening processes?

Effective succession planning strategies and establishing transition processes

Long-term volunteers

Ensure there is more than one person available to undertake roles to reduce 'ownership' and over-reliance on a specific person

Short-term volunteers

Clear role descriptions and documentation
Induction/orientation so that a person can quickly slot into a role – even if only for a short period of time

The need for a volunteer retirement process

Assuring a dignified process
Permitting continued involvement

Invitations to all celebration/recognition events
Activity #4: Key Strategies for a Balanced Volunteer Program
The discussion above can then be documented succinctly to develop clear plans for the management of the volunteer program. How can the volunteers ensure there is balance in their lives but also ensure the program operates effectively? What do they think are the key things that need to be modified or improved with strategic management? This activity focuses on the volunteer program as opposed to the individual volunteer.
First, ask each volunteer to identify and write down what he or she thinks are the five key points, in terms of improvements or modifications, from the discussion in the previous activity.
Second, ask each person to read out the first point on her or his list. Record the points on a whiteboard or newsprint so everyone can see. However, if a point is already on the group list, people should move and read the next point on their list. Continue around the room until every point from the lists is on the whiteboard. This will probably take less time than expected as there will usually be significant overlap. If you are working with a large group, ask people to create the five-point list in pairs or groups of three.
Finally, ask everyone to make a list of three things that they will personally change in the next three months to be sure that volunteering fits into the balance of their lives more effectively. Give each person an envelope with their name on it. Ask them to seal their list in their envelope and return the envelope to you. Tell the volunteers that you will give them back their sealed envelopes in three months time to remind them of their pledge to themselves. If you have a team meeting some time during that three-month period, remind the volunteers of these pledges and of the date when their envelopes will be returned to them.
At the end of the session identify the three volunteer management strategies you will be working to improve in the next three months. Report your progress at team meetings and when you return their envelopes. Seek feedback from the volunteers on how the changes impact their day-to-day volunteer work.
___________
Footnote
1 http://encyclopedia.thefreedictionary.com/work-life+Balance
Bibliography
Coachville Coach Training Resource Centre (1999) The Top 10 Tips for Balancing Work/Family Life http://www.topten.org/public/BI/BI103.html
Community Business (2009) Work-Life Balance: The Guide A practical guide for small, medium and large companies in Hong Kong
http://www.communitybusiness.org/images/cb/publications/2009/WLB_Guide.pdf
Hansen, Ph.D. Randall S. Is Your Life in Balance? Work/Life Balance Quiz A Quintessential Careers Quiz Quintessential Careers
Hayman, J. (2005). Psychometric Assessment of an Instrument Designed to Measure Work Life Balance, Research and Practice in Human Resource Management, 13(1), 85-91.  http://rphrm.curtin.edu.au/2005/issue1/balance.html
Volunteering Australia (2006) Volunteering and Work/Life Balance http://www.volunteeringaustralia.org/html/s02_article/
article_view.asp?id=2136&nav_cat_id=166&nav_top_id=61&dsb=10704
WorkLifeBalance.com (2003) Work-Life Balance Defined - What it really means! http://www.worklifebalance.com/worklifebalancedefined.html
World Volunteer Web (2005) Benefits of Volunteering http://www.worldvolunteerweb.org/resources/how-to-guides/volunteer/doc/benefits-of-volunteering.html